---
QUANTUM GRAVITY FROM THE QUANTUM STANDPOINT – WHAT QUANTUM OPTICS, QUANTUM INFORMATION AND QUANTUM  MATERIAL THEORY CAN TEACH US  ABOUT QUANTUM GRAVITY AND FUNDAMENTAL QUANTUM MECHANICS
---
There is only one time
We draw a picture of physical systems that allows us to recognize what "time" is by requiring consistency with the way that time enters the fundamental laws of Physics. Elements of the picture are two non-interacting and yet entangled quantum systems, one of which acting as a clock. The setting is based on the Page and Wootters mechanism, with tools from large-N quantum approaches. Starting from an overall quantum description, we first take the classical limit of the clock only, and then of the clock and the evolving system altogether; we thus derive the Schrödinger equation in the first case, and the Hamilton equations of motion in the second. This work shows that there is not a "quantum time", possibly opposed to a "classical" one; there is only one time, and it is a manifestation of entanglement.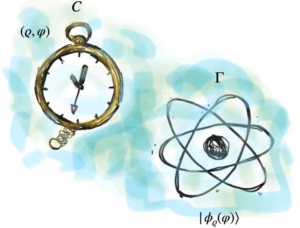 C. Foti, A. Coppo, G. Barni and A Cuccoli, Nature Communications  12,  1787 (2021)
Simulating general relativity and non-commutative geometry by non-paraxial quantum fluids
We show that quantum fluids enable experimental analogs of relativistic orbital precession in the presence of non-paraxial effects. The analysis is performed by the hydrodynamic limit of the Schrödinger equation. The non-commutating variables in the phase-space produce a precession and an acceleration of the orbital motion. The precession of the orbit is formally identical to the famous orbital precession of the perihelion of Mercury used by Einstein to validate the corrections of general relativity to Newton's theory. In our case, the corrections are due to the modified uncertainty principle. The results may enable novel relativistic analogs in the laboratory, also including sub-Planckian phenomenology.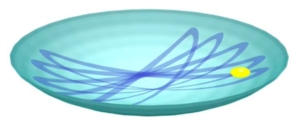 G. Marcucci and C. Conti, New Journal of Physics, 21, 123038 (2019)